Rudding Park Music and Lighting
Where do we start?! Having had many years of first-hand experience providing music for exclusive events as well as Christmas and New Year parties at Rudding Park – we now consider ourselves the experts in Rudding Park Music and Lighting! As we are not agents – we are always there in person to oversee everything hence we have firsthand knowledge of the events. We have been involved with so many amazing weddings and events at Rudding Park – in the chapel, the Radcliffe Room, Library, Drawing Room; the Crosby Suite and the Jupiter Room!
There are so many lovely rooms and you have a fairly blank canvas to create your own special atmosphere.
Now is your chance to see some of the possibilities as they have their Wedding Fair coming up on Sunday, 1st March 11am – 3pm.
We will have Trio Vivo (violin, cello and piano) playing live throughout the fair and we will also have our huge screen with photos and fab videos of Rudding Park.
Have a look at a range of photos of our lighting and dancefloors at Rudding Park here:
The Radcliffe Room During the Daytime
Rudding Park Radcliffe Room – the largest room at Rudding Park which can cater for up to around 200 guests.
It's a very grand room for a civil ceremony. You can also add glamour to the room with our fairy light ceiling, fairy light pillars and white aisle carpet as you can see in some of the photos below.
Then, after the ceremony whilst you and your guests are having drinks – the room can be completely turned around for the wedding breakfast. You can have a totally different 'look' when you return for the meal! Plus then we can change it again for your evening party!
All of the dancefloors, lighting, fairy lights, backdrops etc in these photos are our own and available to hire separately or as a package, with or without our music too.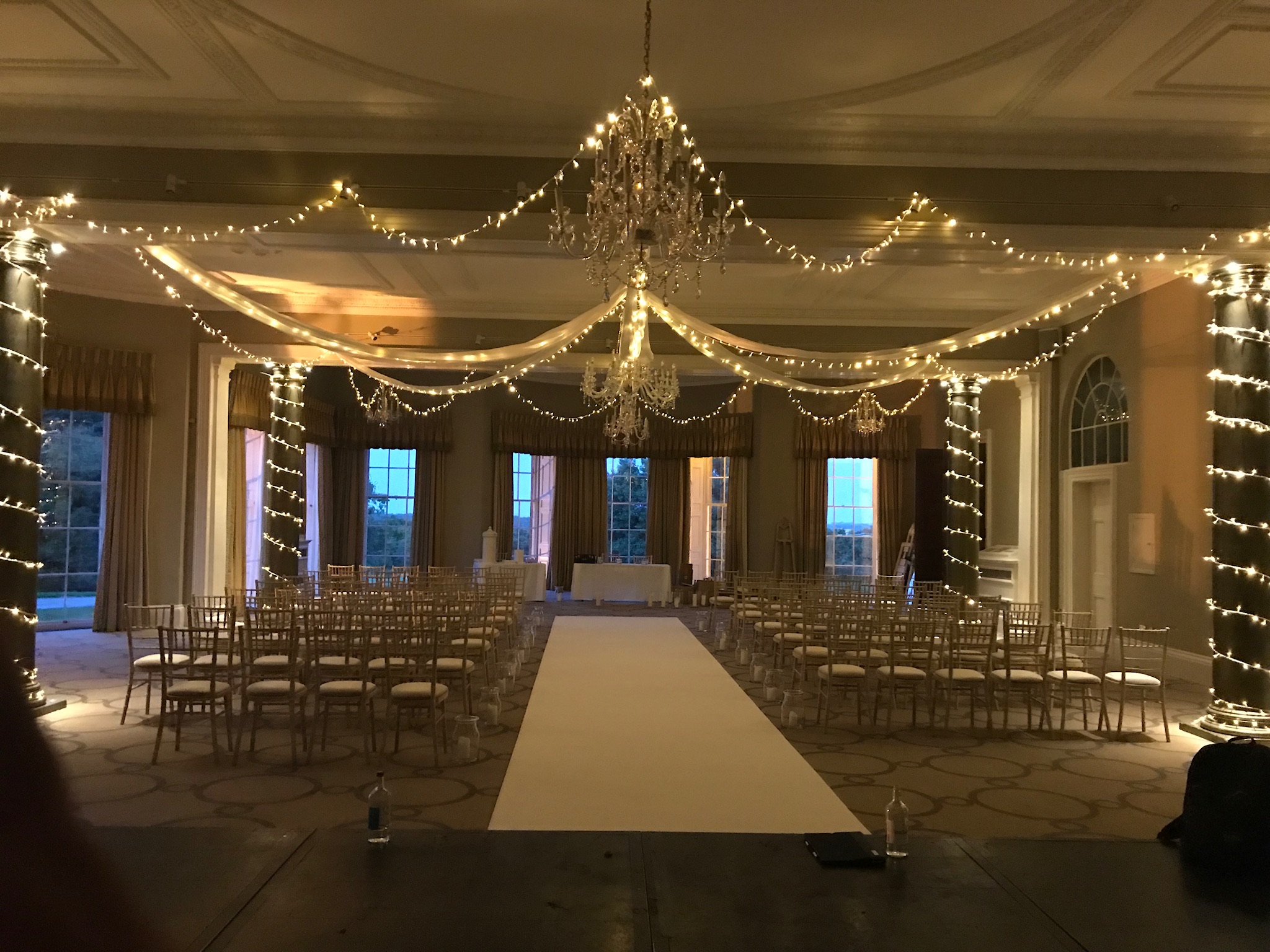 In this photo: Ceiling draping with fairy lights. white aisle carpet, pillar fairy lights and room uplighting.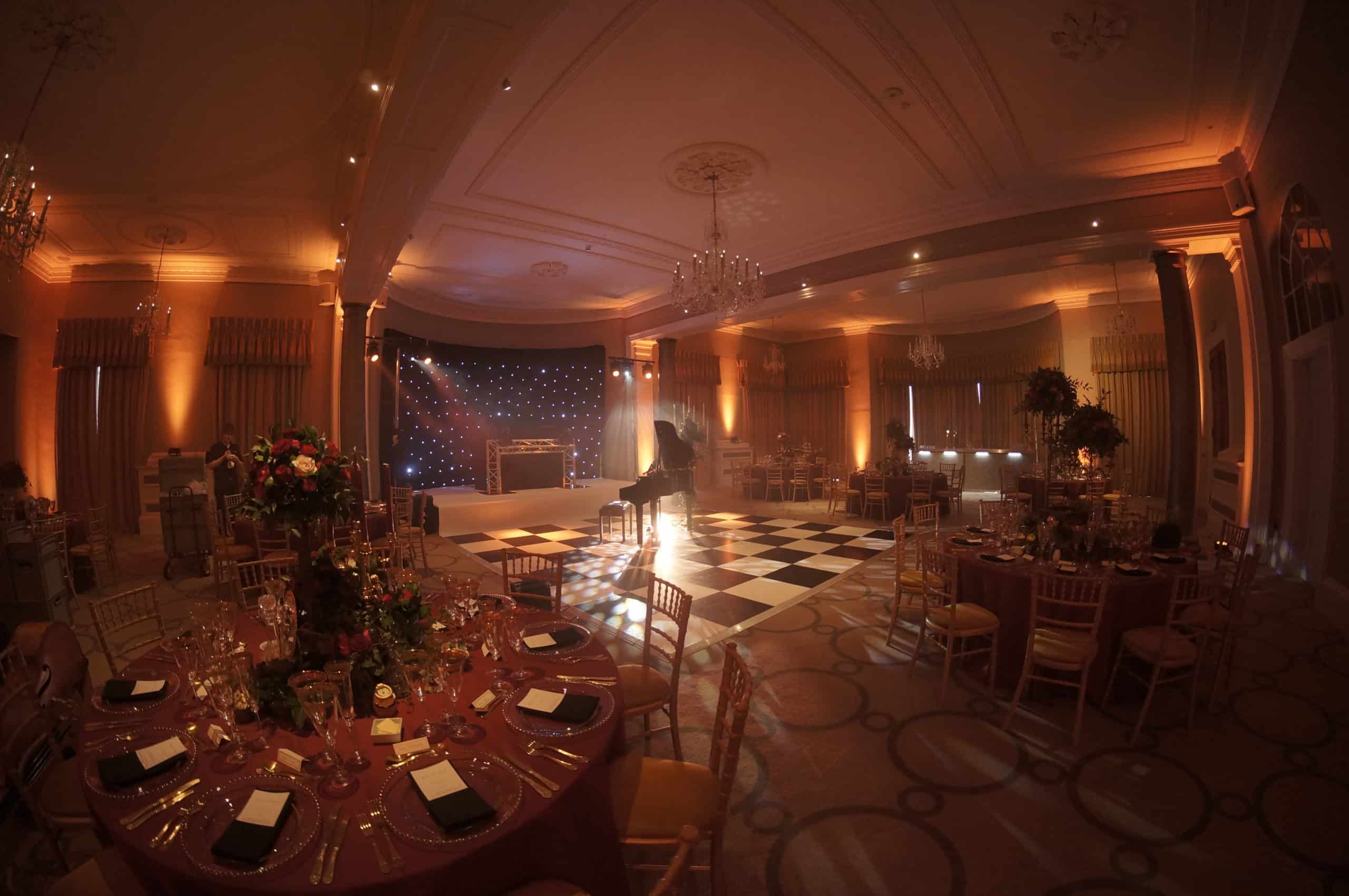 In this photo: Black-and-White Dancefloor, Black Grand Piano, DJ Set-Up, Amber Room Uplighting and Black Starcloth.
In this photo:
Our Chuppah with flowers by Red Floral
White, extra-wide aisle carpet
White wall draping
Grand Piano
White carpeted stage
Room uplighting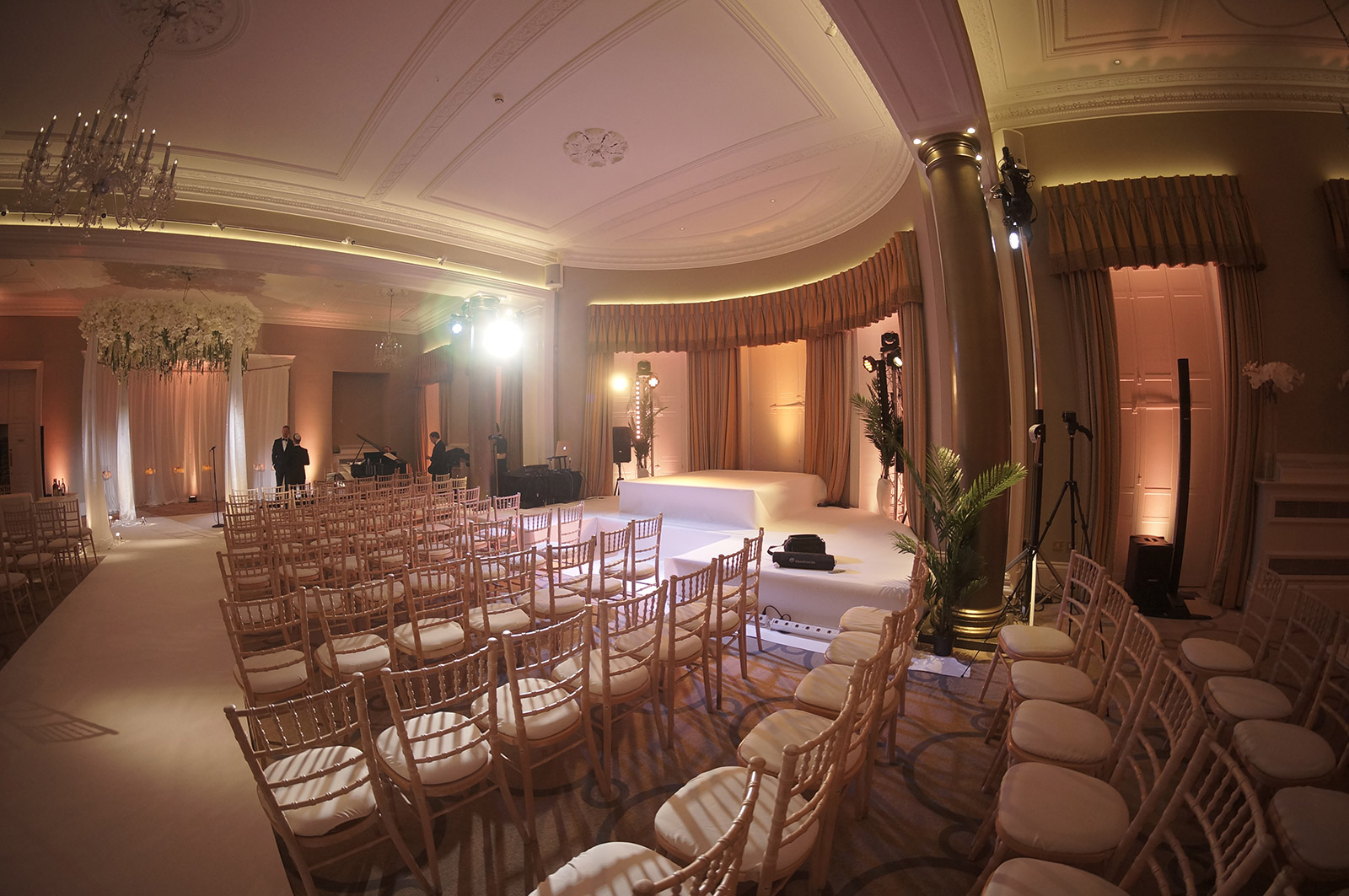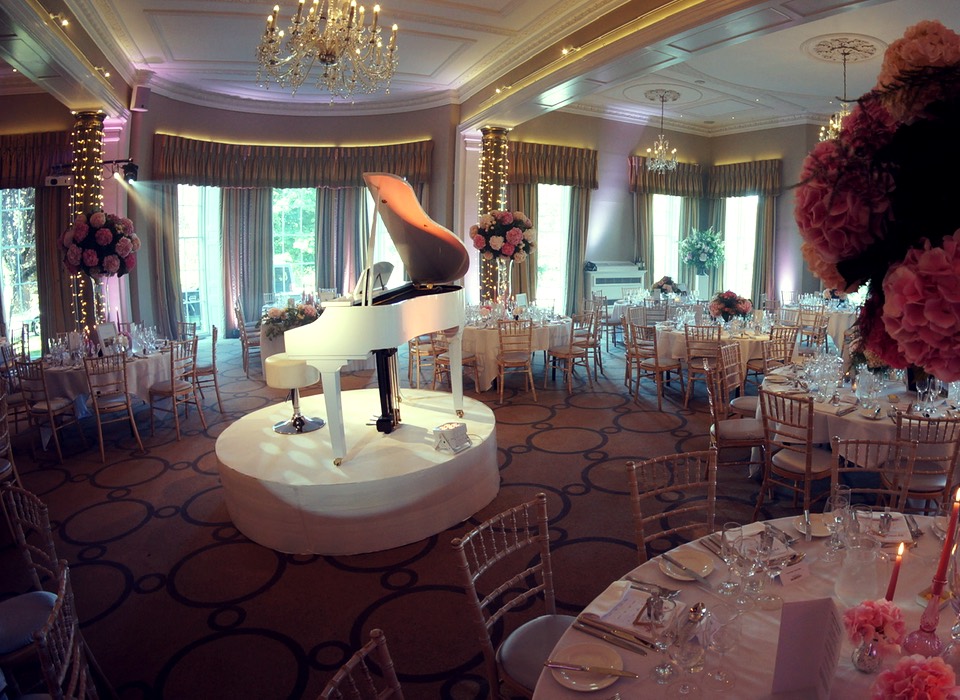 The Radcliffe Room During the Evening
After your wedding breakfast you and your guests can adjourn to the bar and library – perhaps even for coffee. In only a short space of time, The Radcliffe Room is completely transformed for your evening party. There are so many lovely 'looks' – all very different. We can create the atmosphere you want for your evening with our lighting, decoration and entertainment.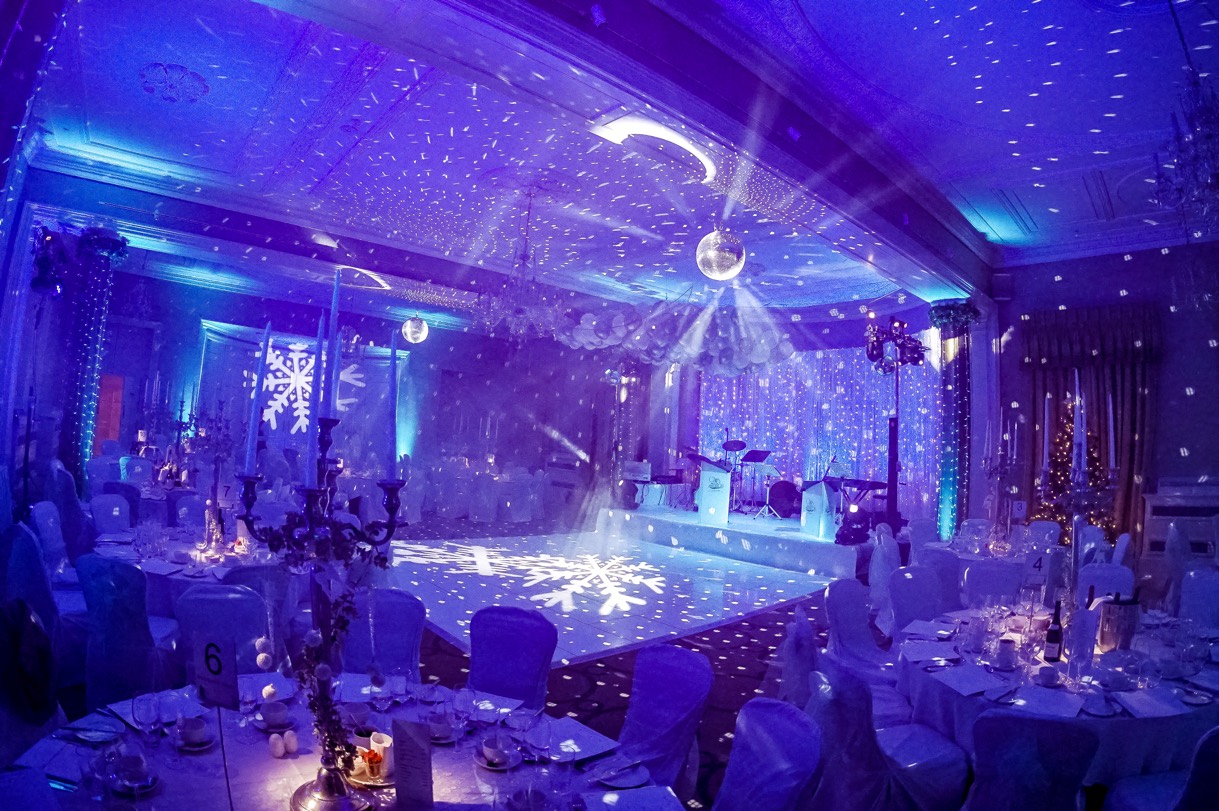 Perhaps this has to be reserved for Christmas time, but we love this look! In this photo above: White Dancefloor, Mirror Balls on Ceiling, White Snowflake Projections, White Starcloth, White Stage, Table Spotlights, Pillar Fairy Lights, Blue Room Uplighting, Chris Hilton's Little Big Band.
In this photo: Plain White Dancefloor, White Starcloth, Lighting Truss, Band Set-up, Pillar Fairy Lights, LED Poseur Tables, Pink Room Uplighting.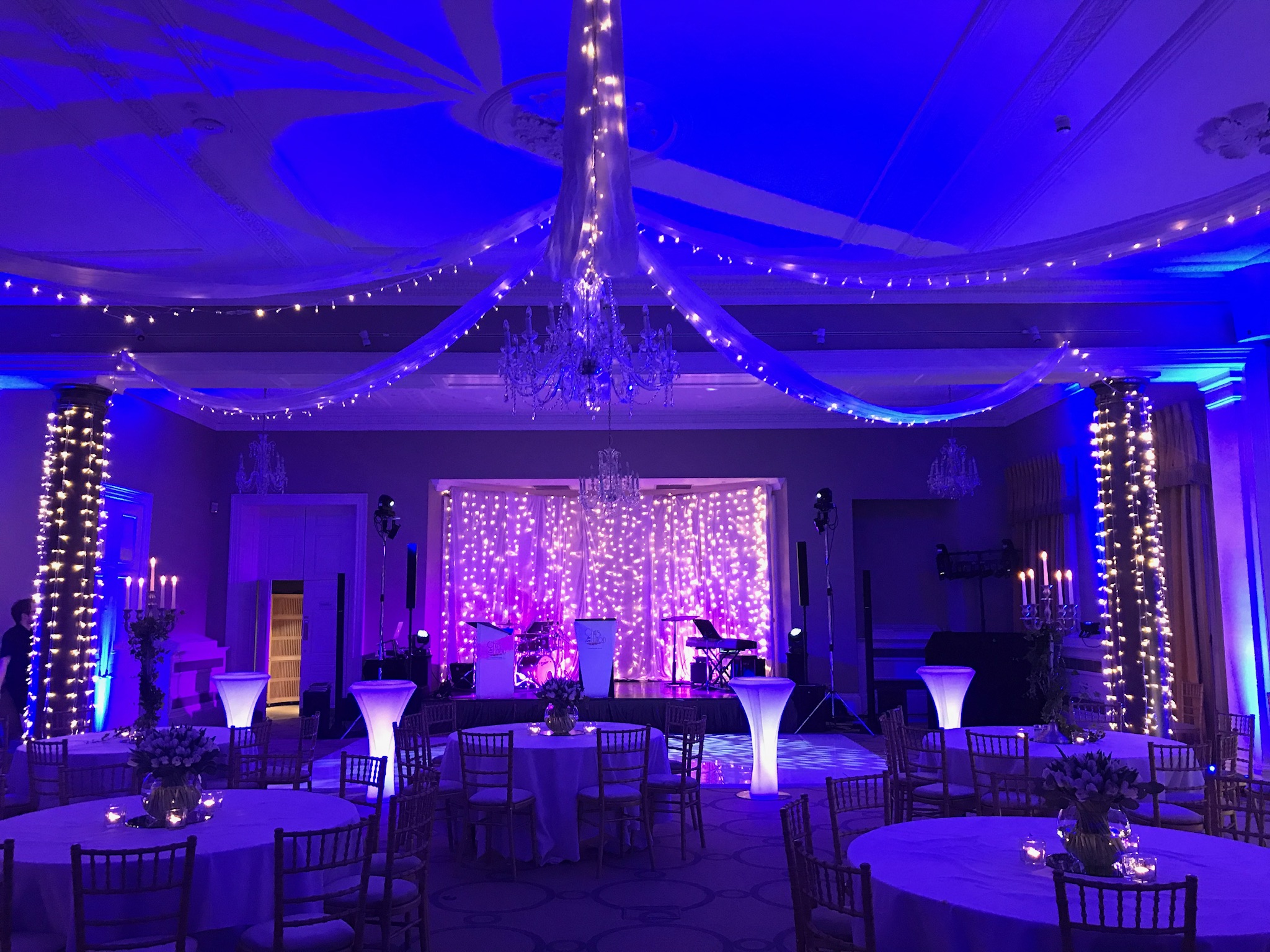 In this photo:
Ceiling draping with fairy lights
Pillar fairy lights
White Dancefloor
White fairy light starcloth
Chris Hilton's Little Big Band
Blue Room uplighting
LED poseur tables
In this photo:
Ceiling Drapes
Plain White Dancefloor
Heart Projection
LED Poseur Tables
Band Set-up
Pink Room Lighting
White Starcloth and Stage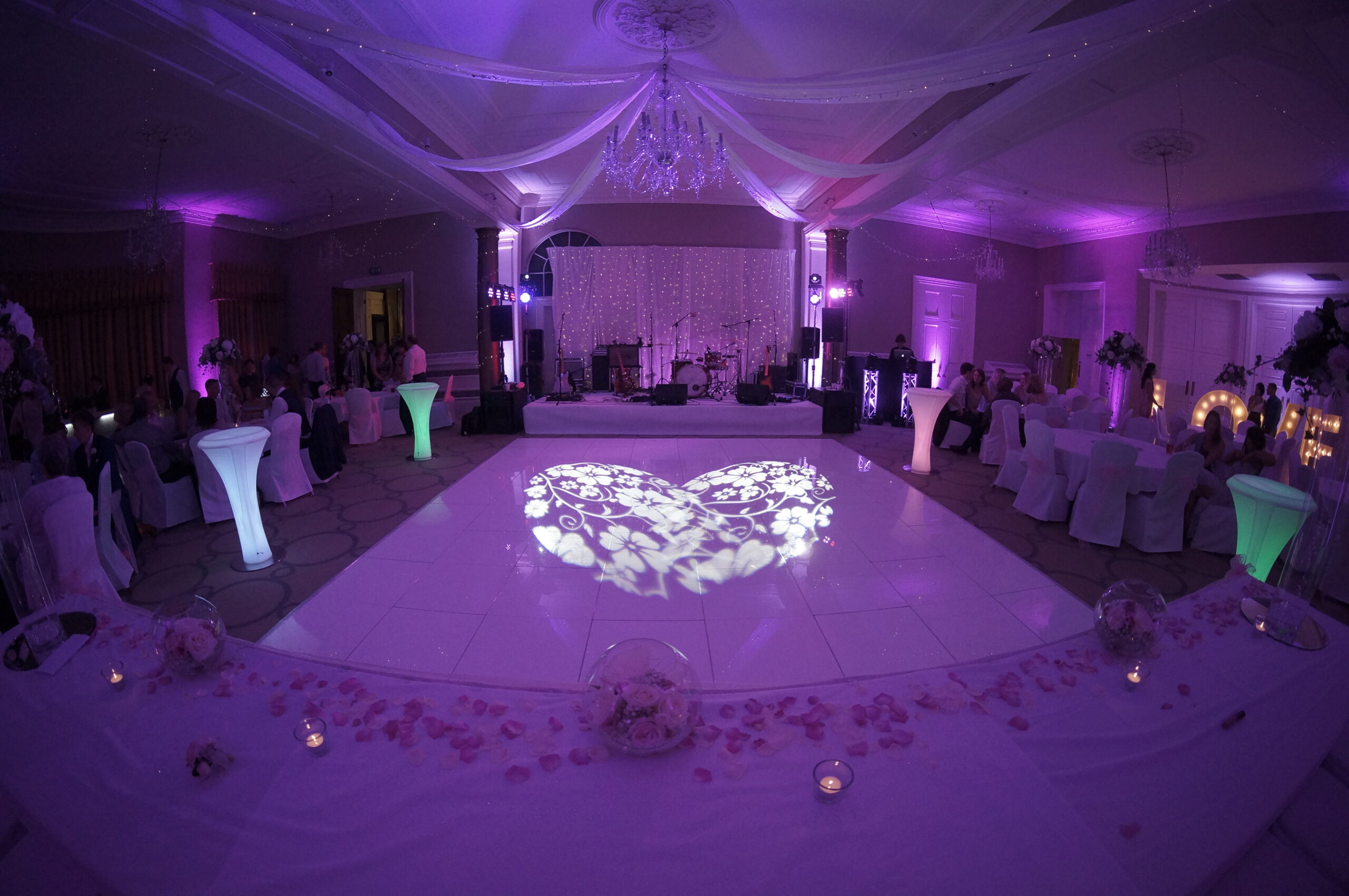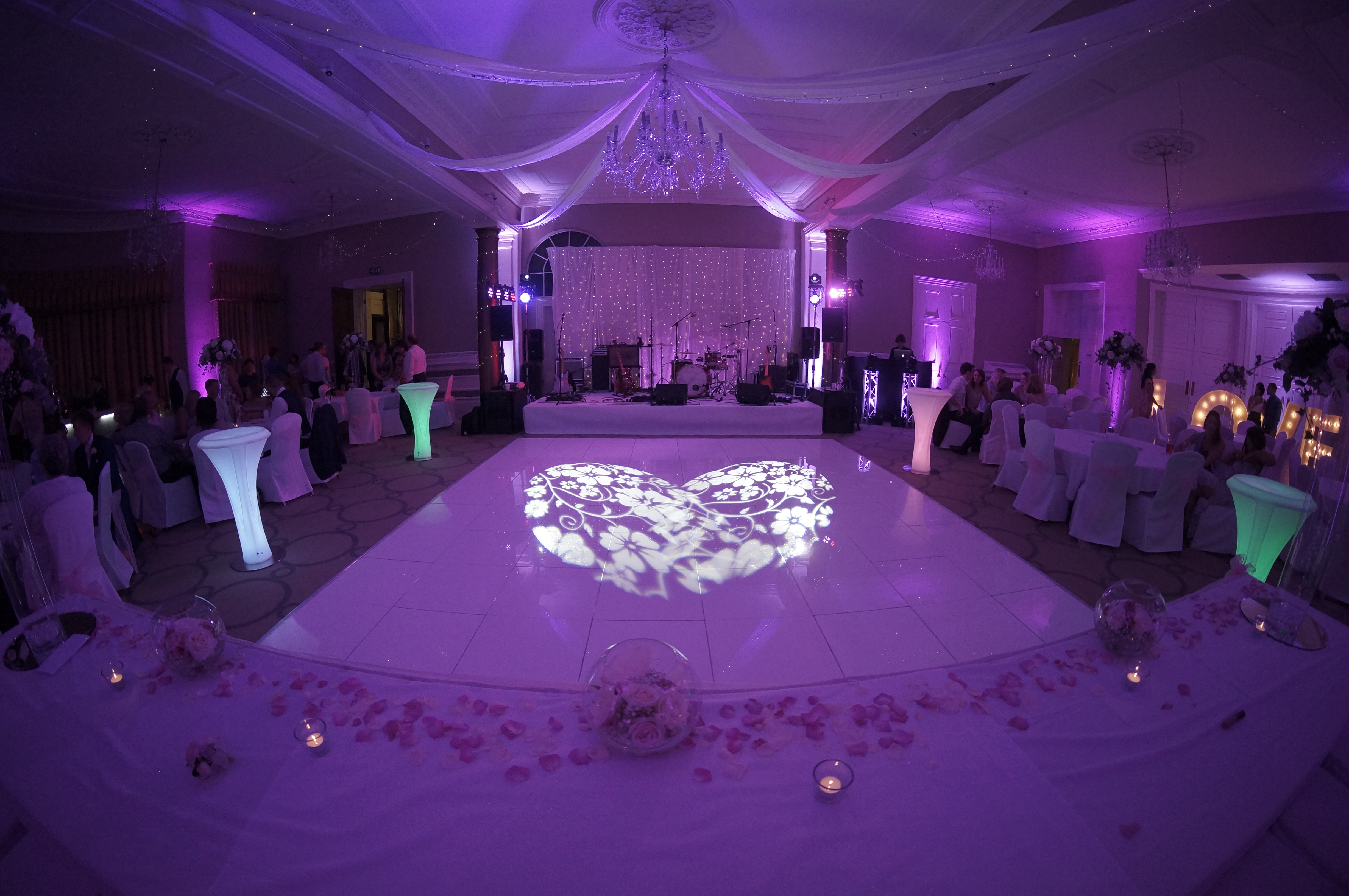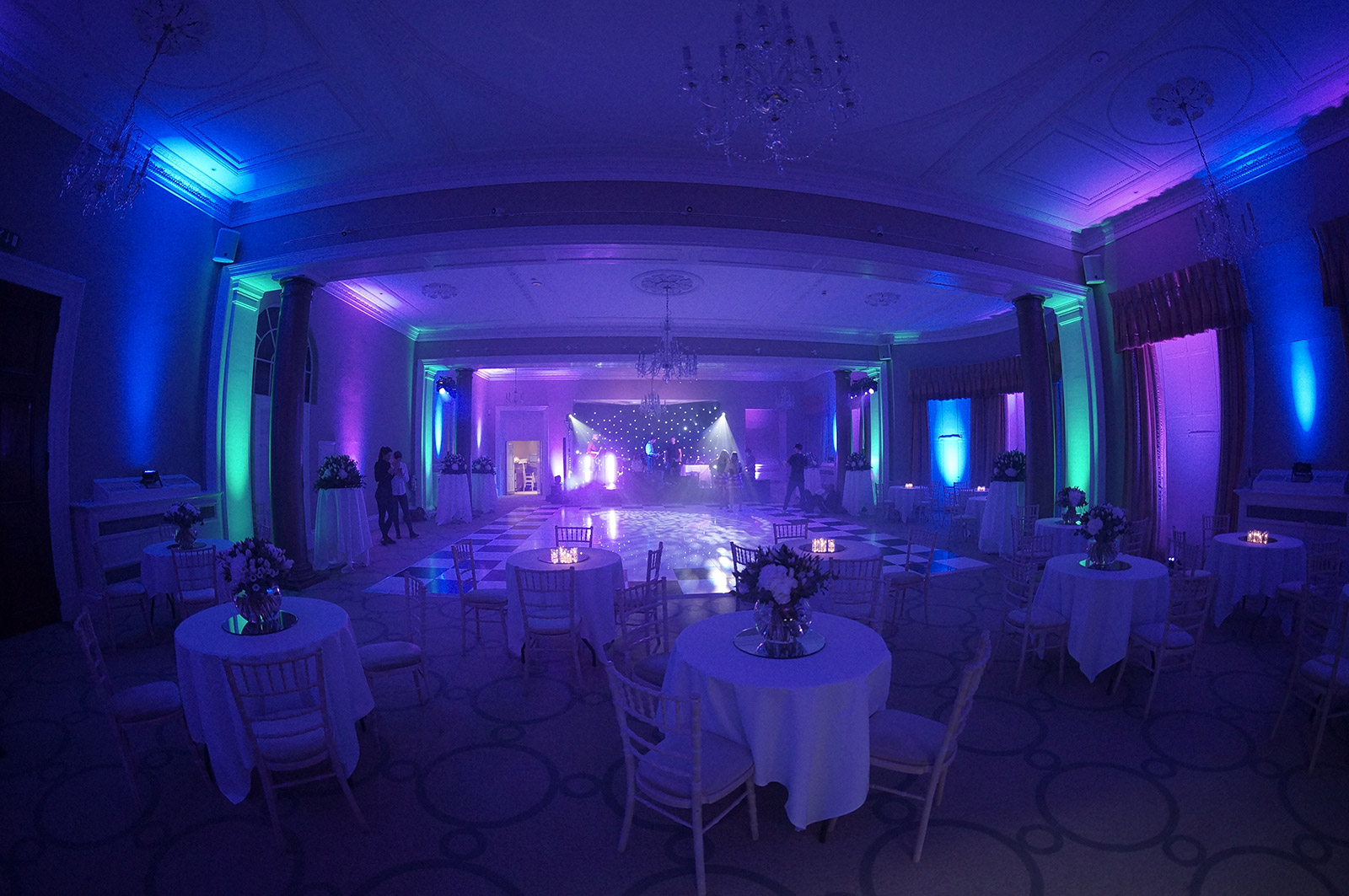 How about this huge dancefloor in the photo above for an early-evening Ceilidh before the party band?
Music for your Bridal Entrance:
We time our music to fit with whatever happens so you don't need to worry about us! People often ask us how they will time their walking to our music. That's our job!
This is a huge advantage of live music over a recording. We can make what we play as long or short as we want and our experience definitely helps! You don't want to risk the music stopping when you're half-way down the aisle.
Bridal entrances have honestly varied over the years from 20 seconds to 6 minutes. It keeps us on our toes!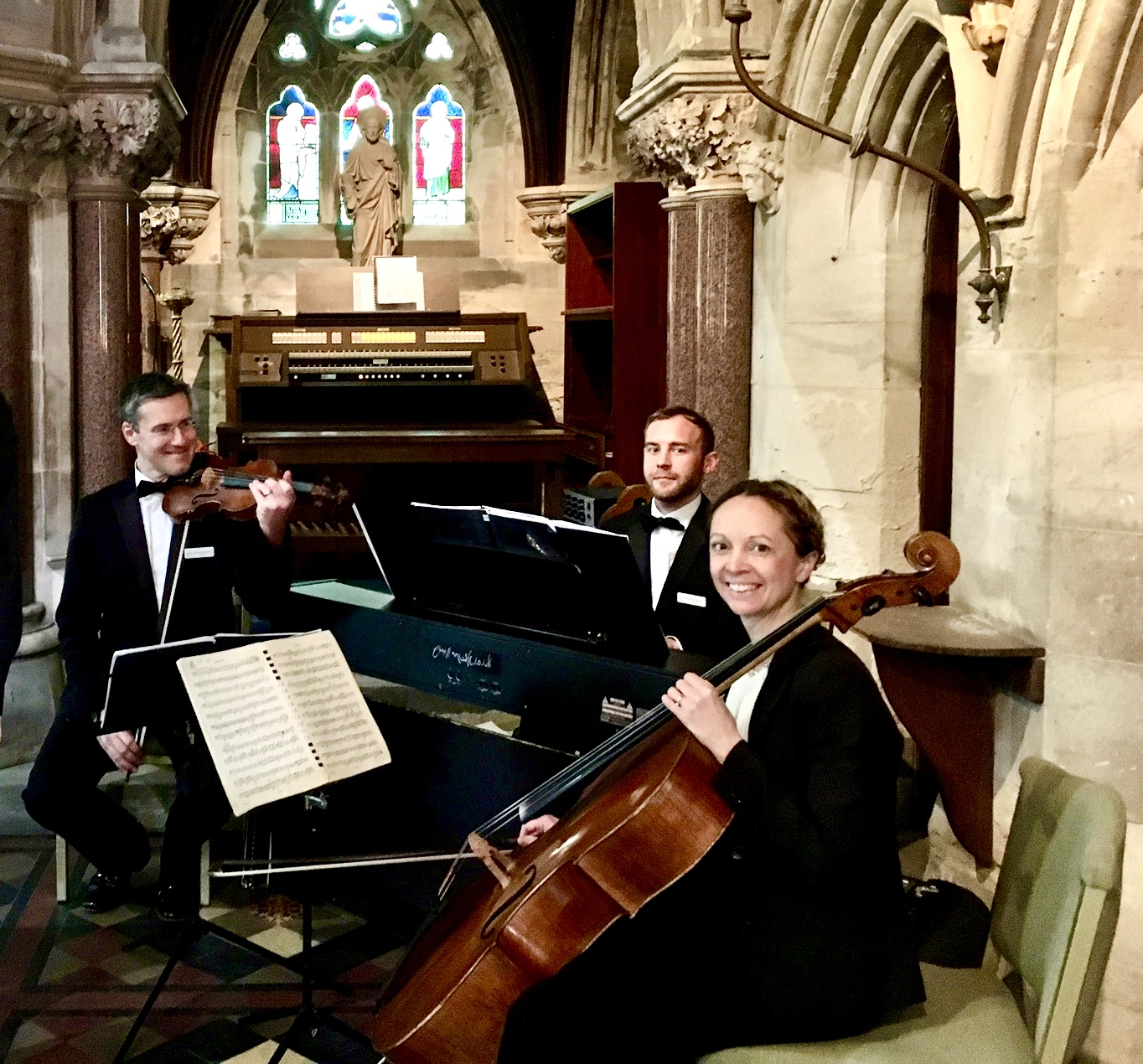 Rudding Park Chapel
Why not make use of the magnificent Chapel at Rudding Park for a blessing. Sometimes we play for an intimate civil ceremony in the morning with just family members, followed by a blessing in the Chapel for all of the guests to attend.
We can take care of all your music requirements, including playing for any hymns.
Or how about a surprise act during your ceremony? Our singer or even our singer and saxophonist making a surprise appearance as in this video:
The Crosby Suite
For a smaller wedding, the Crosby Suite upstairs is a superb space. The three inter-linked rooms can be divided up or opened up as an L-shaped space. The dividing doors mean that the space for your evening party can be set up whilst you are having your wedding breakfast so it's all ready when you come out after your speeches.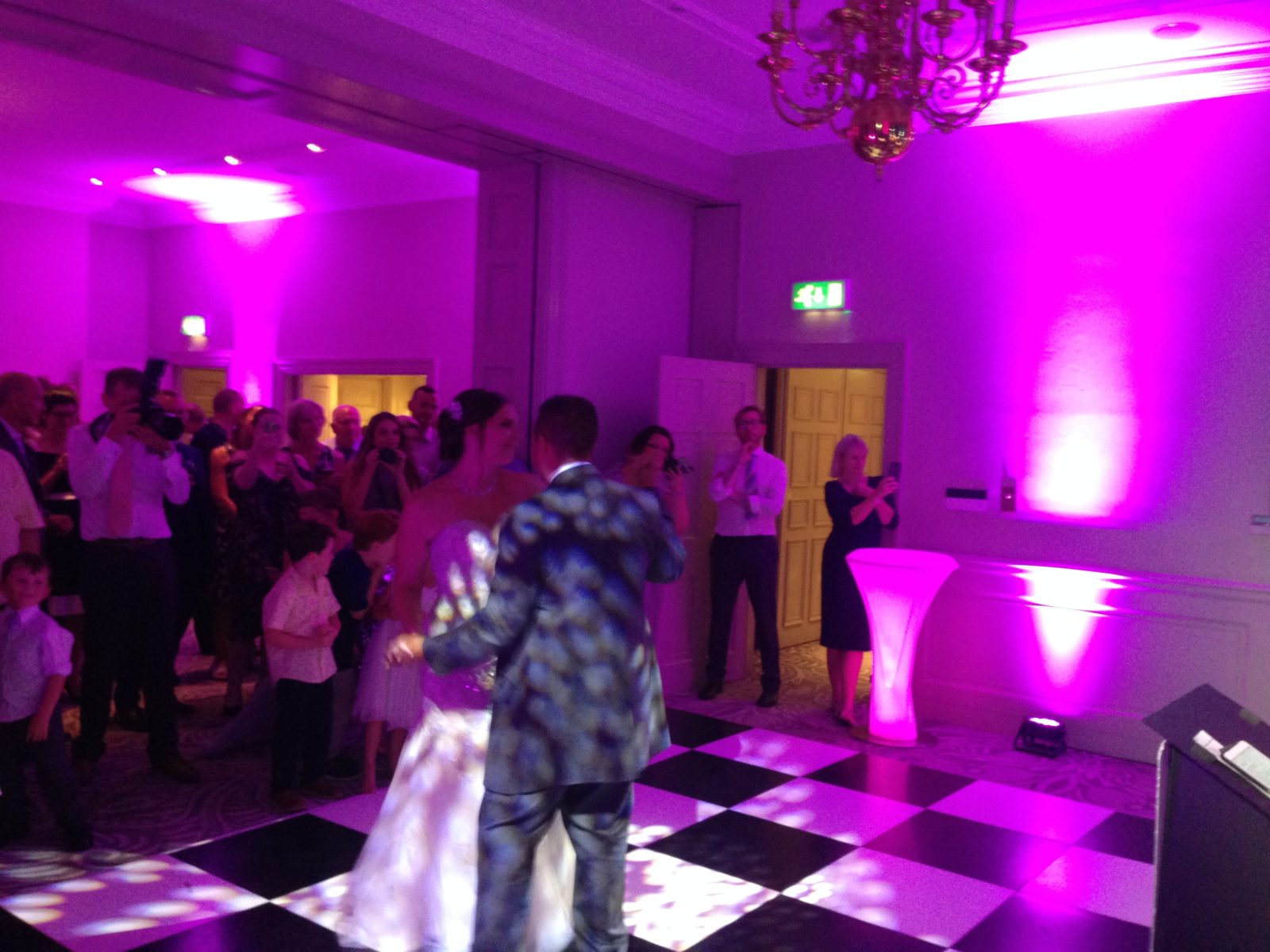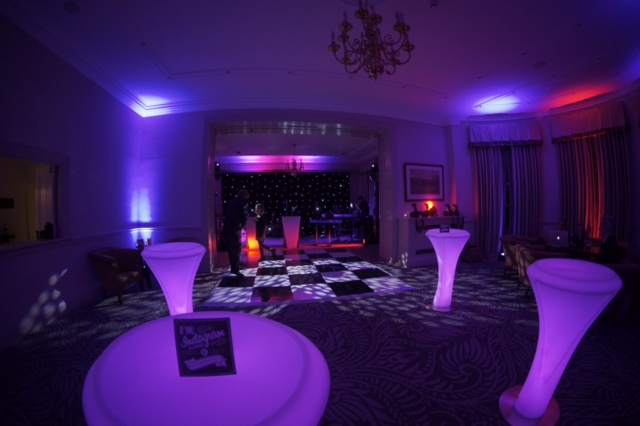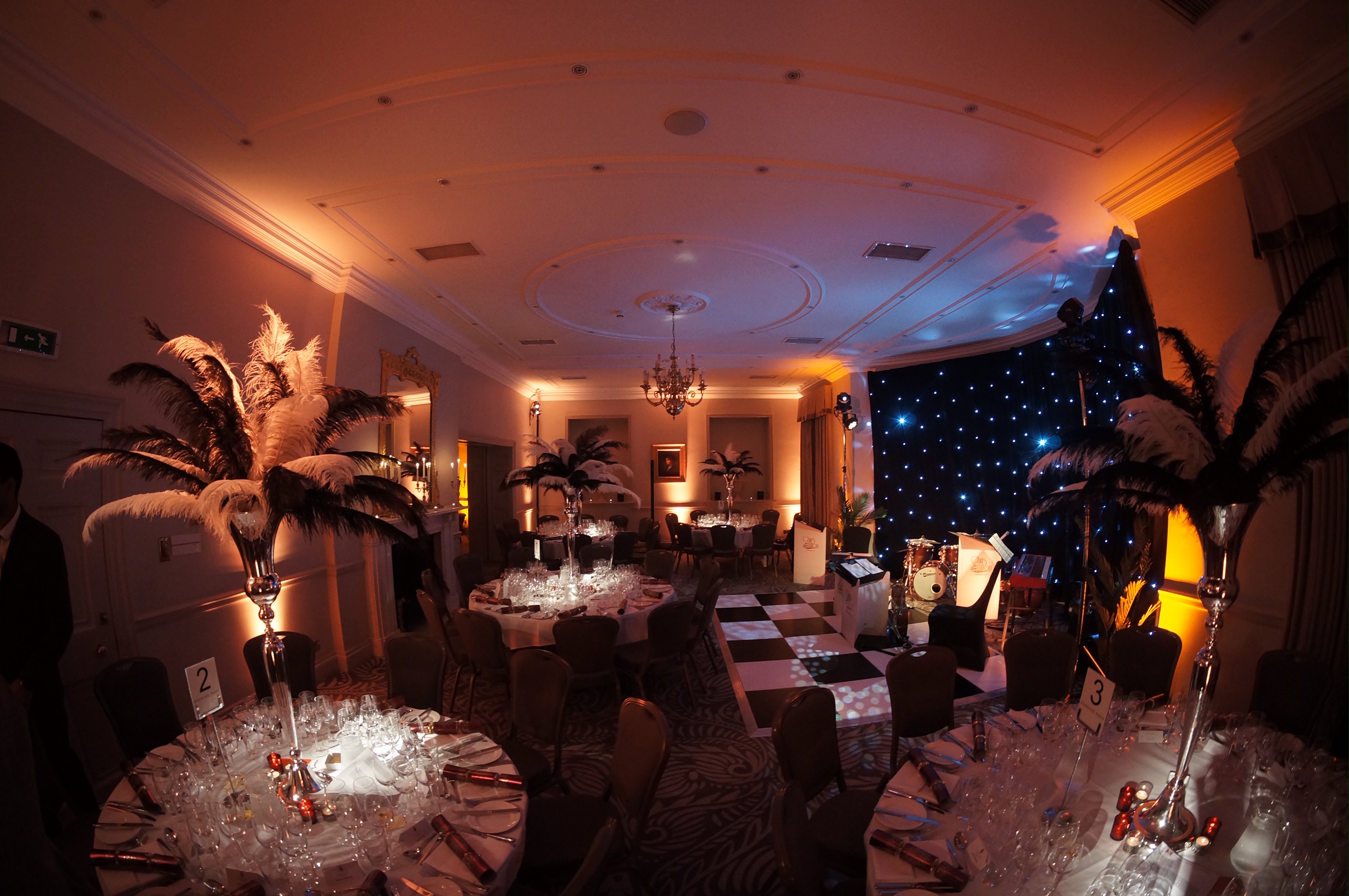 The Library
For smaller, more intimate ceremonies the Library is a lovely room with the large bay windown and views out onto the Terrace. Have a look at this video of a ceremony in the Library with Trio Vivo:
The Terrace
For your drinks reception – a fabulous, sunny terrace area at the back of Rudding House where we can play and you can sip champagne!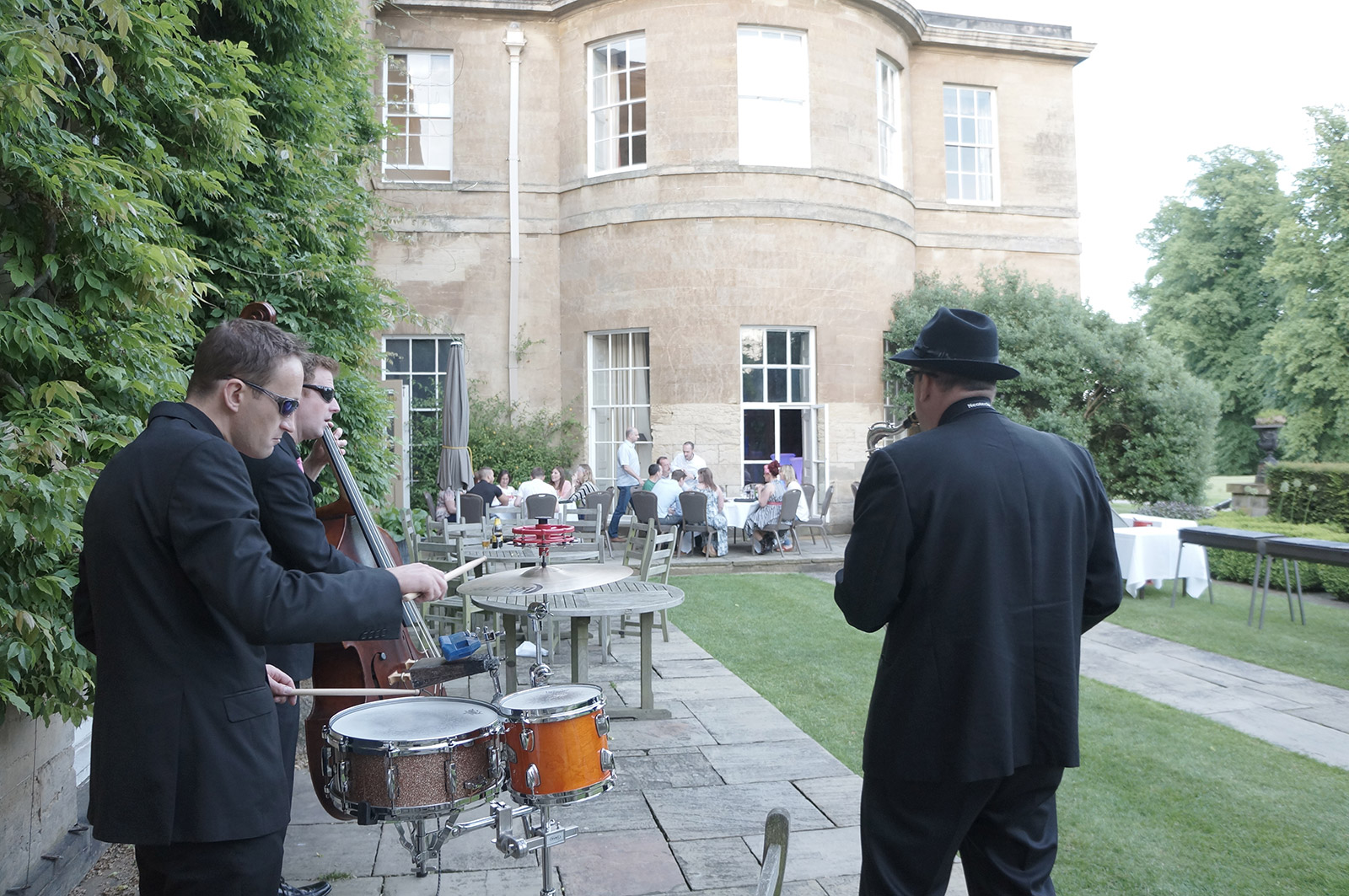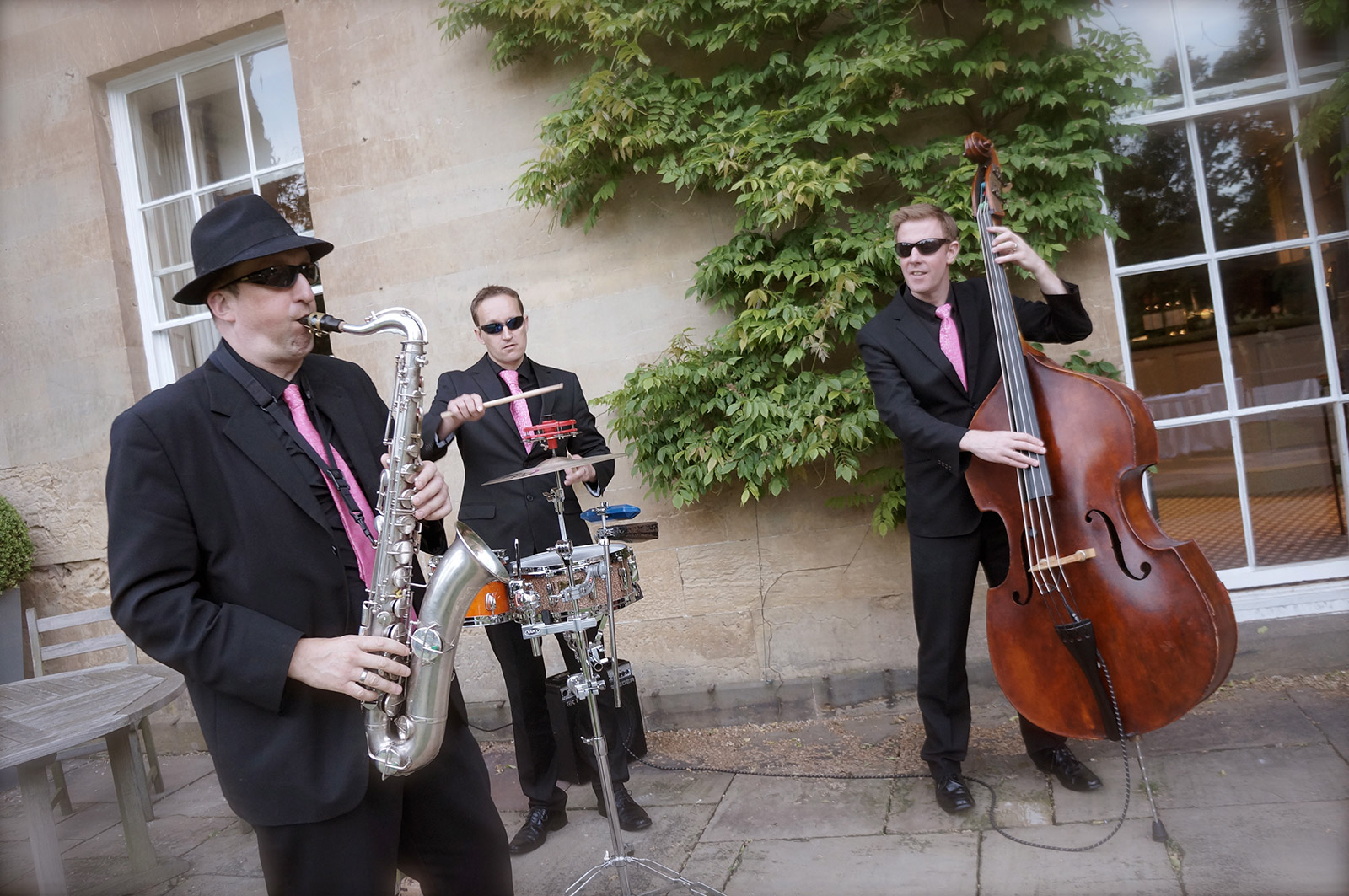 Rudding Park Clocktower Bar
We have live music every Friday evening in the Clocktower Bar at Rudding Park. This is a great chance to hear us as well as a time to relax with a drink or bite to eat. The music is from 7pm – 10pm every Friday. The line-up varies each week. You can see who is on each Friday on our website here: Rudding Park Live Music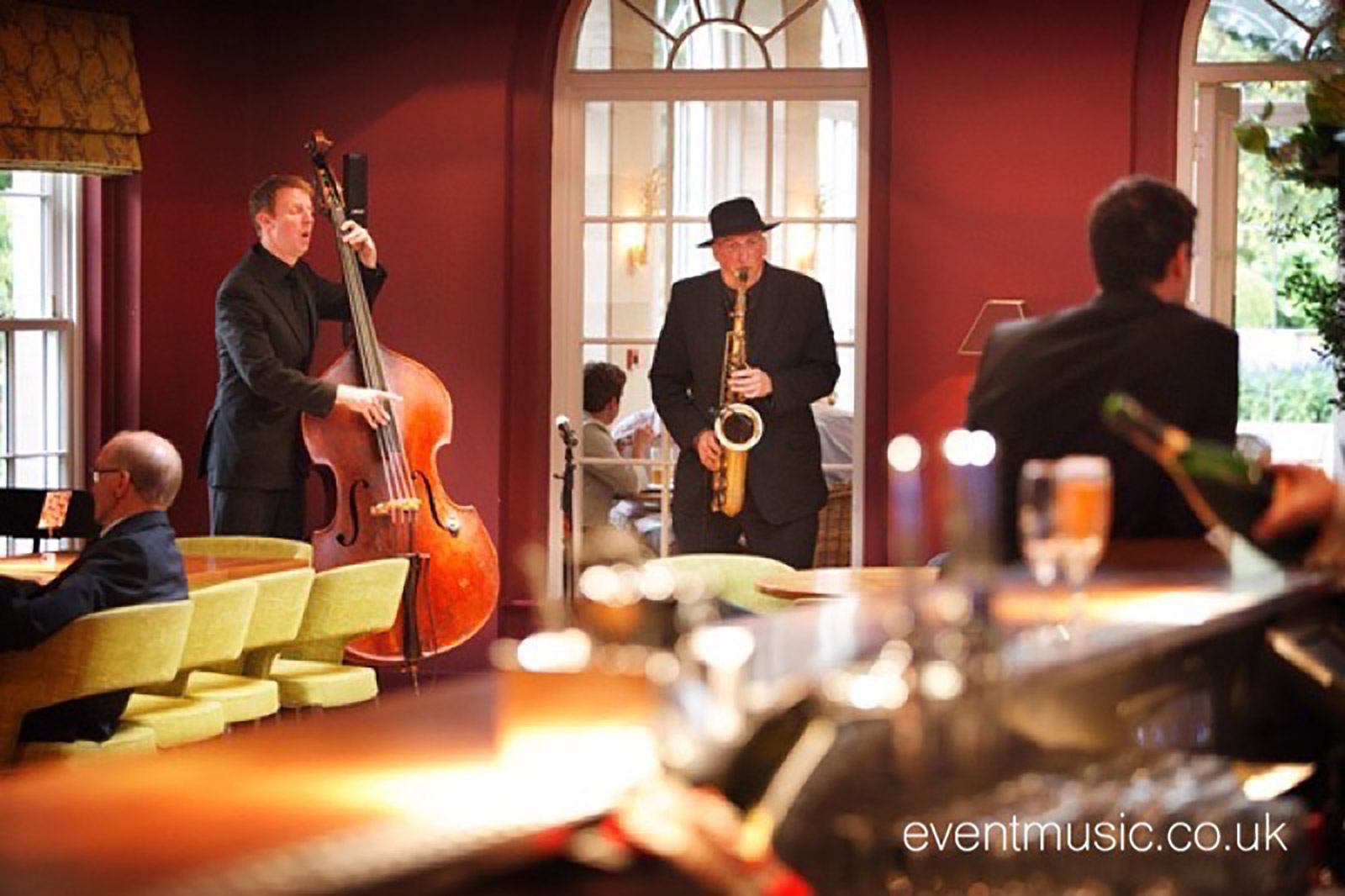 Rudding Park Wedding Fair
Sunday, 1st March (11am – 3pm)
Don't miss this chance to see this fabulous venue for yourself on 1st March, plus a host of amazing suppliers including us! Click here for more information: Rudding Park Wedding Fair
Trio Vivo will be playing live – you can request a song and have a chat with us. See you there!