Allerton Castle Wedding Music
We have had the pleasure of working at Allerton Castle for many years now. It really is a completely unique wedding venue – we haven't yet found another like it!
Can you believe you can have this exclusively for your wedding? Your own Fairytale Castle!
Allerton Castle isn't often open to the public. Now is your chance to see it as they have their Wedding Fair coming up on Sunday, 23rd February 11am – 3pm.
We will have Trio Vivo (violin, cello and piano) playing live throughout the fair and we will also have our huge screen with photos and fab videos.
The Amazing Staircase
This Gothic revival stately home has featured in many films and TV series including the recent 'Victoria'. The temple in the grounds also inspired the nursery rhyme 'The Grand Old Duke of York', as he lived here in the 18th century.
Its 21m high Great Hall and Imperial Staircase makes for an incredible entrance for the bridal party – like no other!
Have a look at this video of a bridal entrance from the bride's perspective. This is Trio Vivo playing as well as our uplighting and lighting of the aisle and fireplace.
Warning – it might make you nervous!
Music for your Bridal Entrance
We time our music to fit with whatever happens so you don't need to worry about us! People often ask us how they will time their walking to our music. That's our job!
This is a huge advantage of live music over a recording. We can make what we play as long or short as we want and our experience in this venue definitely helps! You don't want to risk the music stopping when you're half-way down the aisle.
Bridal entrances have honestly varied over the years from 20 seconds to 6 minutes. It keeps us on our toes!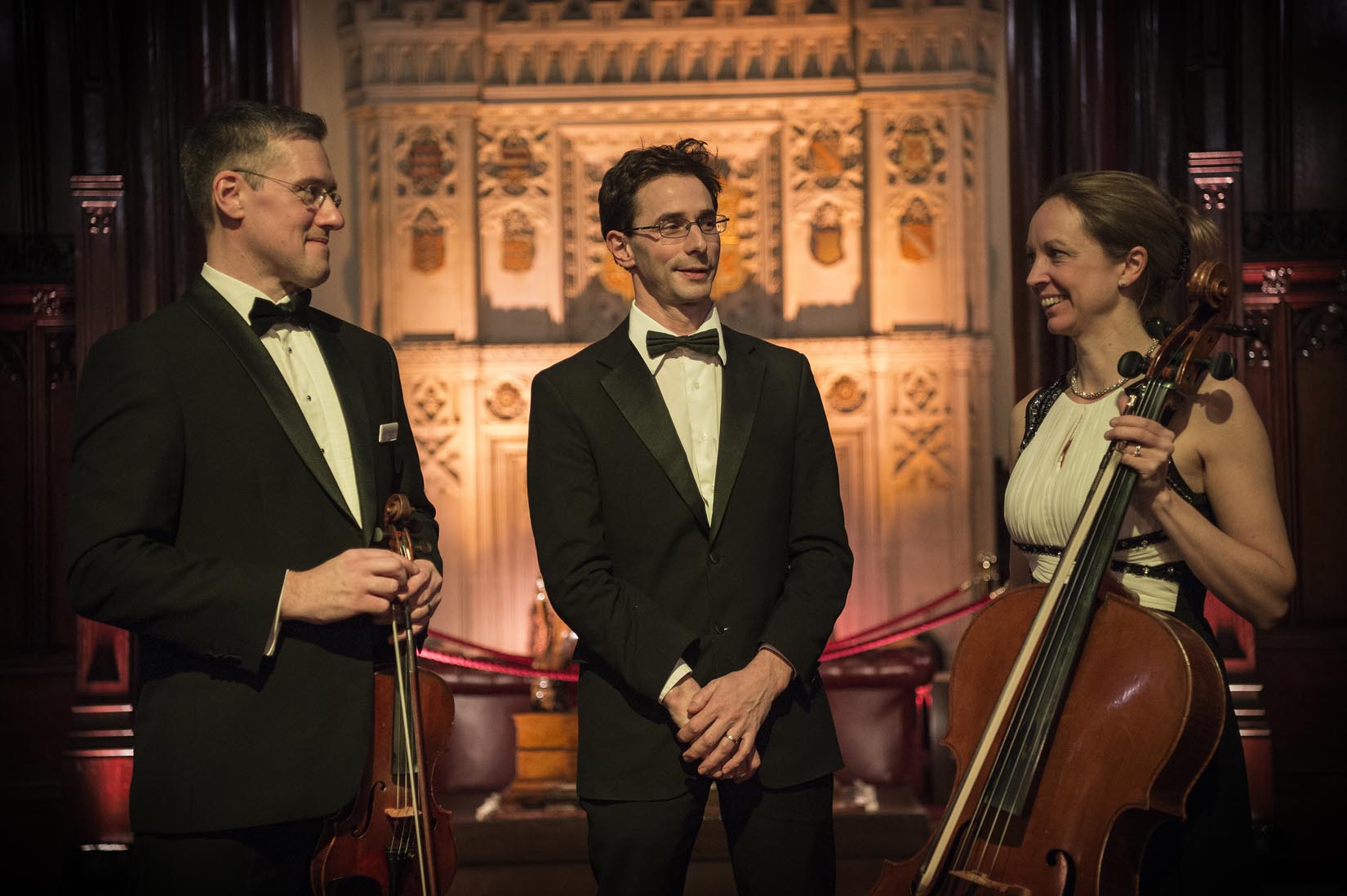 Music choices
The epic bridal entrance at Allerton Castle opens up all options of music and you have the time to have a whole song rather than just a short section.
Just a few recent music choices for the Bridal Entrance:
CLASSICAL
Pachelbel's Canon – a classic favourite Air on a G String – Bach Trumpet Voluntary – Clarke Bridal Chorus – Wagner I Giorni – Einaudi Clair de Lune – Debussy
MODERN
'Tale as Old as Time' from 'Beauty & The Beast' 'This Land' from 'The Lion King' 'A Million Dreams' from 'The Greatest Showman' 'Concerning Hobbits' from 'The Hobbit' 'A Thousand Years' – Christina Perri 'Marry Me' – Train 'How Long Will I Love You' – Ellie Goulding
The beautiful Reflection Garden for the Drinks Reception
An enclosed, sheltered area which is lovely for group photos and a glass of champagne or two.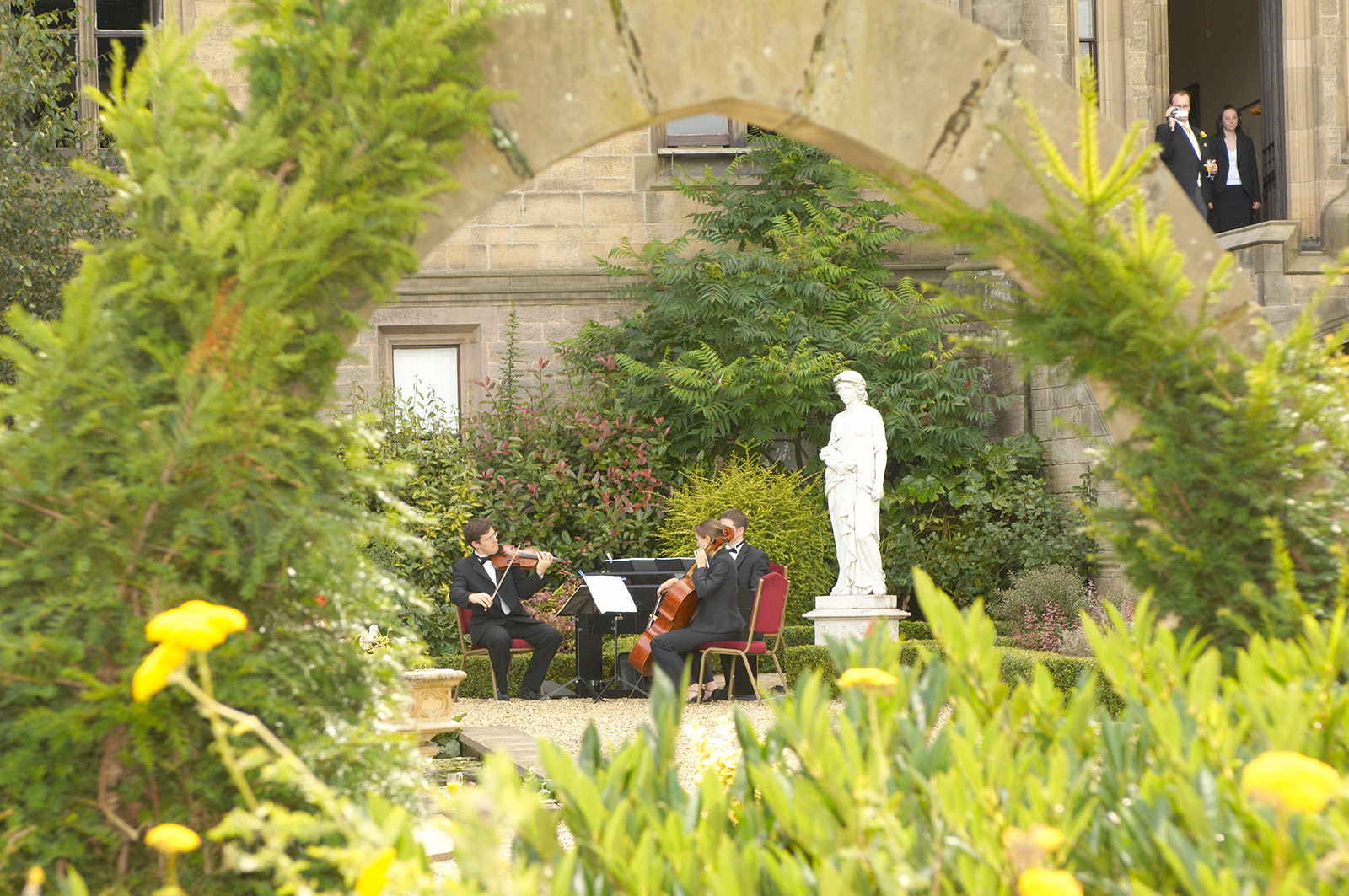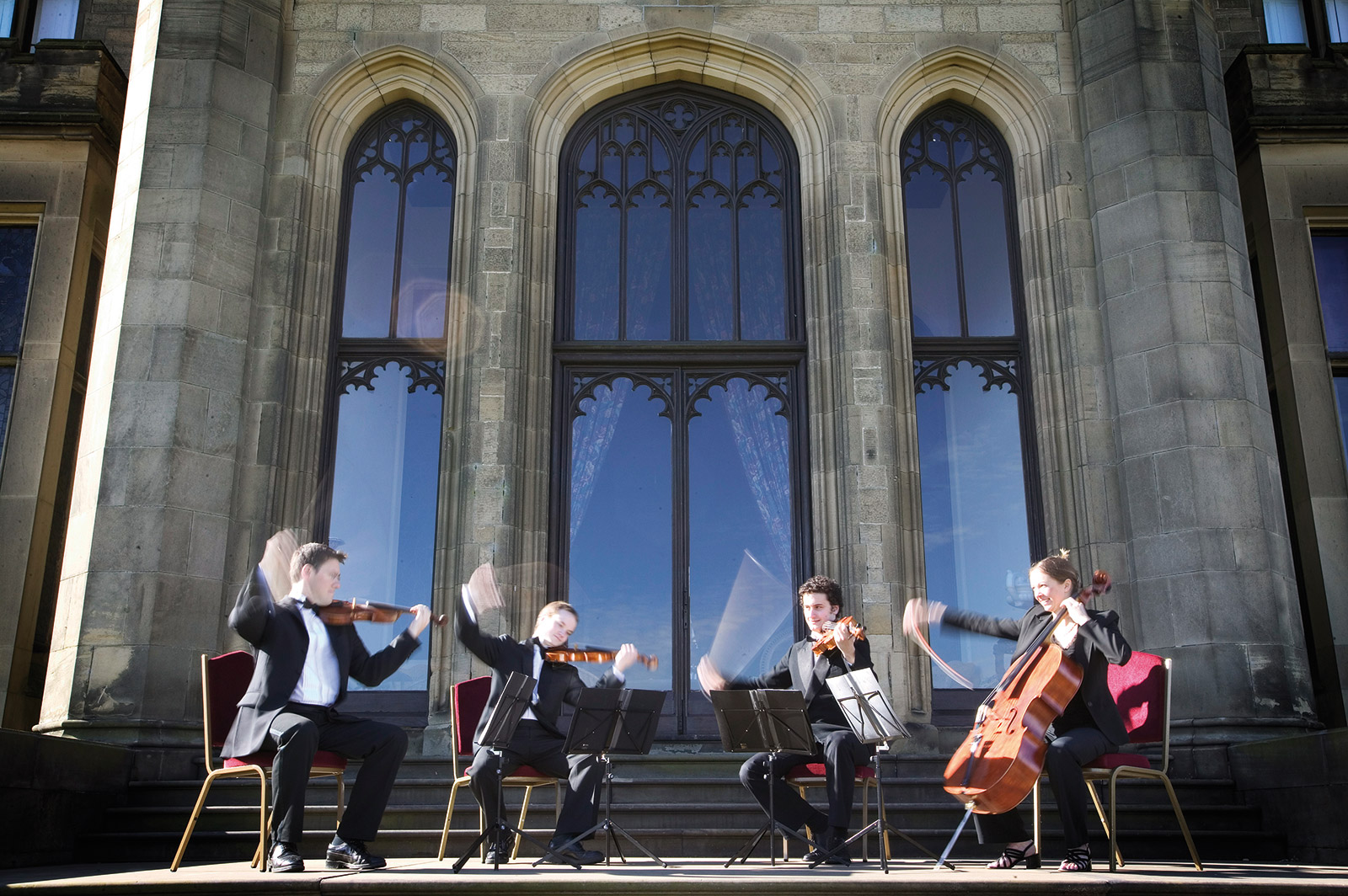 The Wedding Breakfast in The Ballroom
This room is the perfect size for the wedding breakfast. The Top Table is in view of all the guests – it's an intimate space whilst feeling spacious with its high ceiling. The atmosphere in this room when Trio Vivo is playing is always brilliant. Or bring in our Surprise Opera Singers for a real WOW Factor at the end of your meal:
The Evening Party in The Great Hall
During your wedding breakfast we can transform the Great Hall for your evening. When you come out after your meal it is truly breathtaking.
This is one of the best venues for the evening party as the dancing area and bar are in the same space so nobody can escape!
Chris Hilton's Little Big Band is our own party band which guarantees to have everyone up and dancing. We use our own lighting and PA which doesn't detract from the venue – you'll still be able to see the beautiful fireplace and flower arrangements. Bear in mind you don't want ugly, stadium-sized speakers in this beautiful space.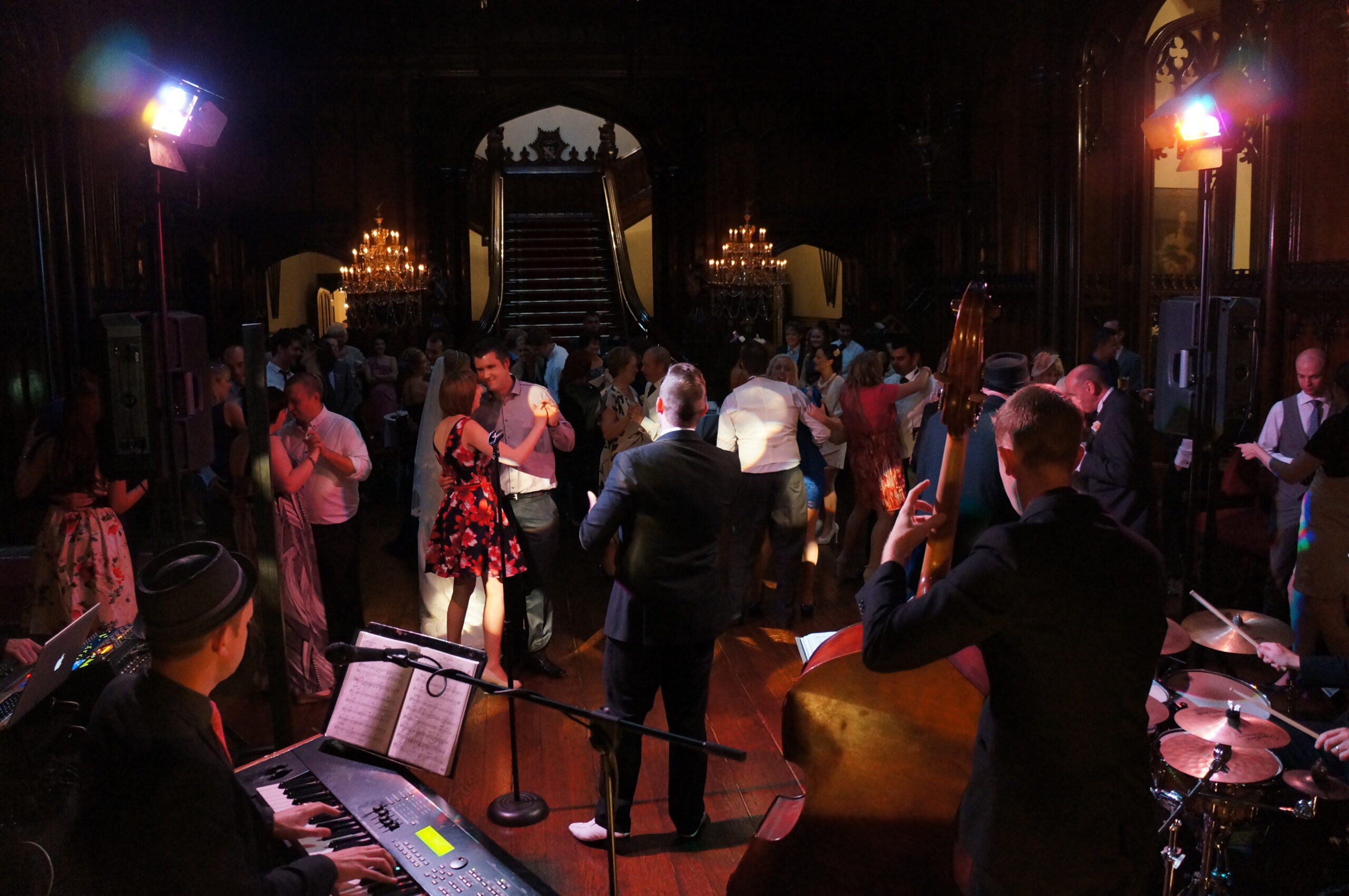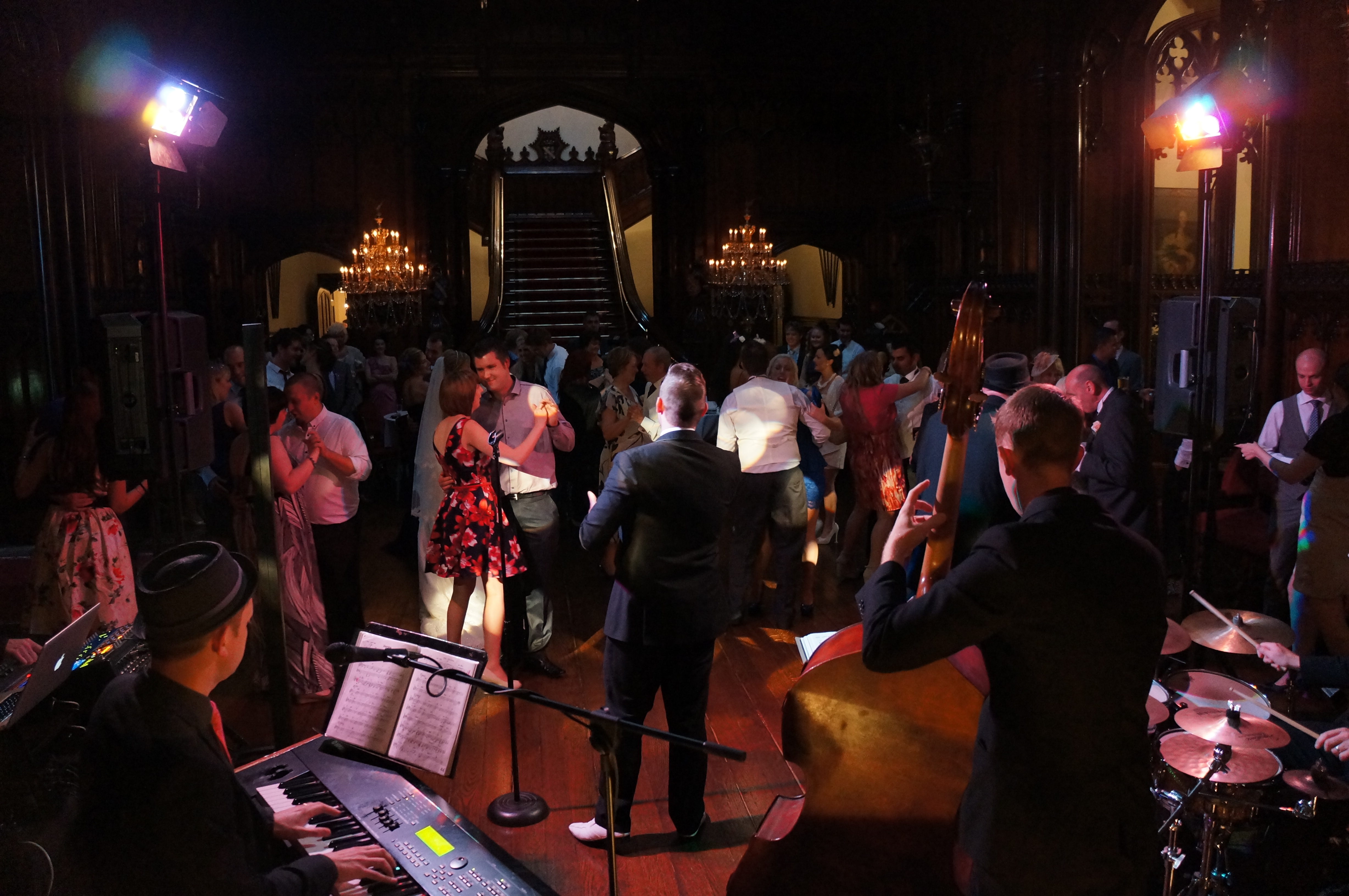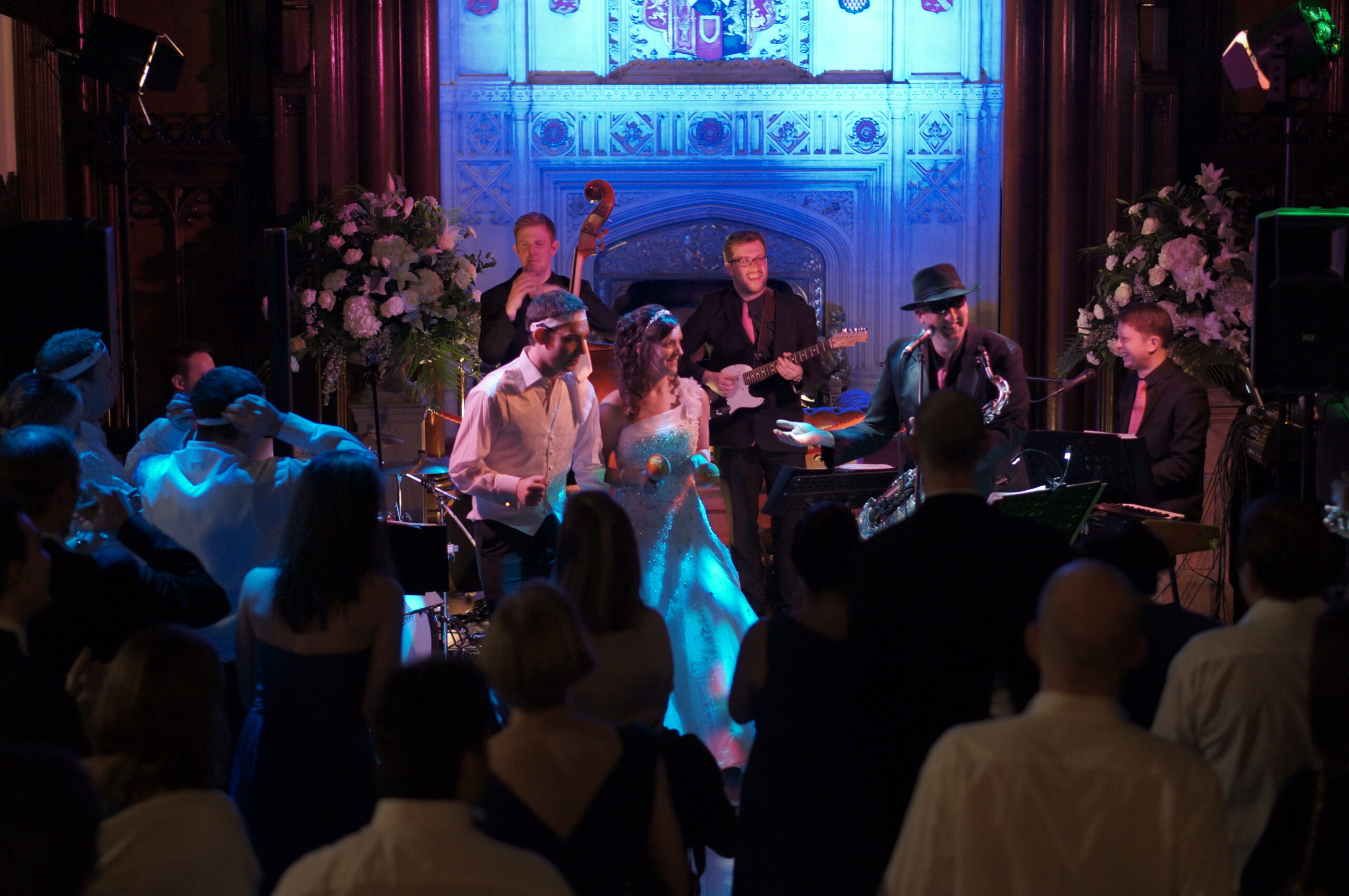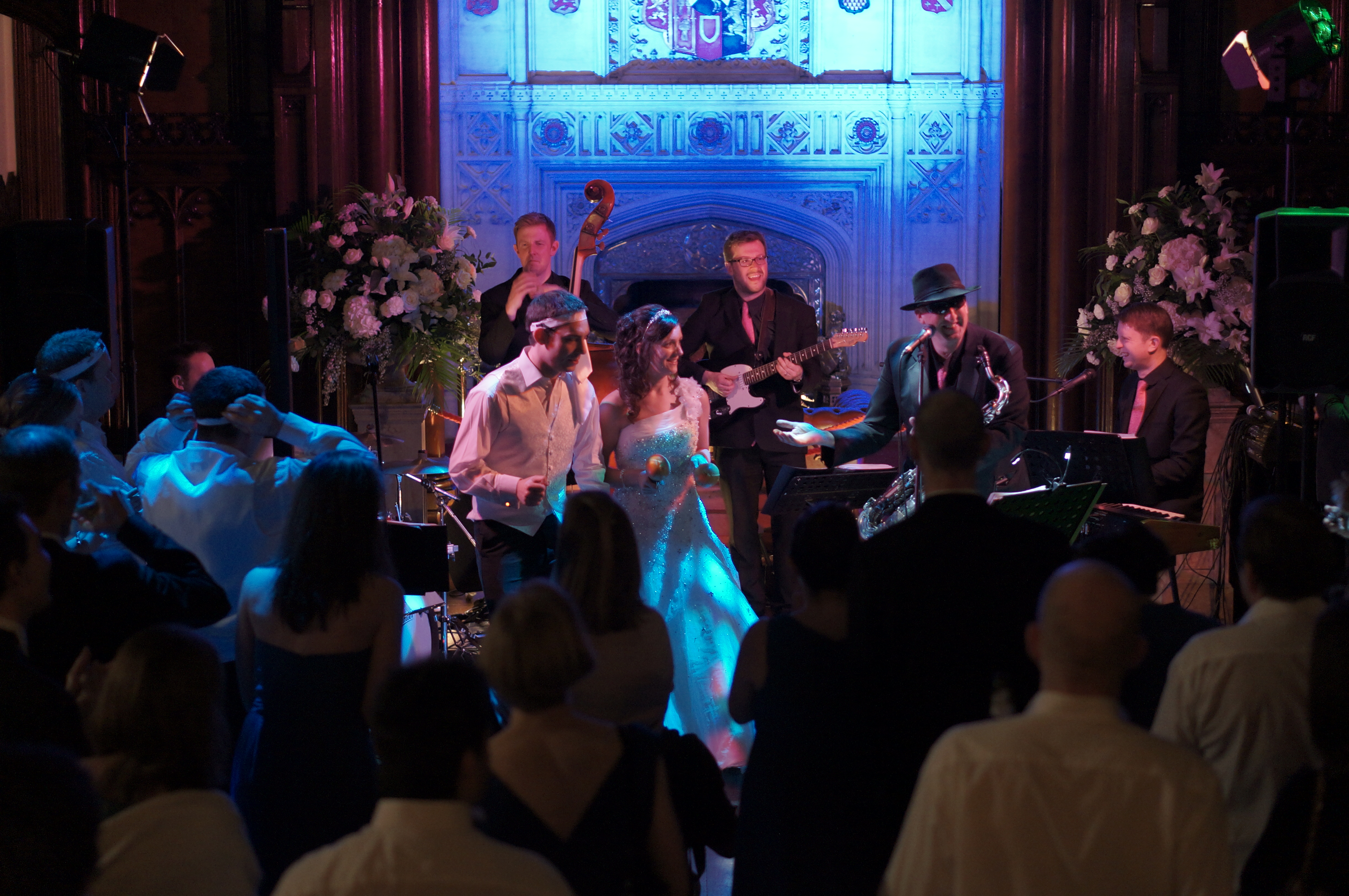 Lighting and Dancefloors
Allerton Castle Lighting. Allerton Castle Dancefloors.
The amazing Great Hall can be transformed for your evening – creating a real Wow Factor. A few subtle lighting options (any colour you like) and one of our dancefloors create an amazing atmosphere for the evening when you come out after your wedding breakfast: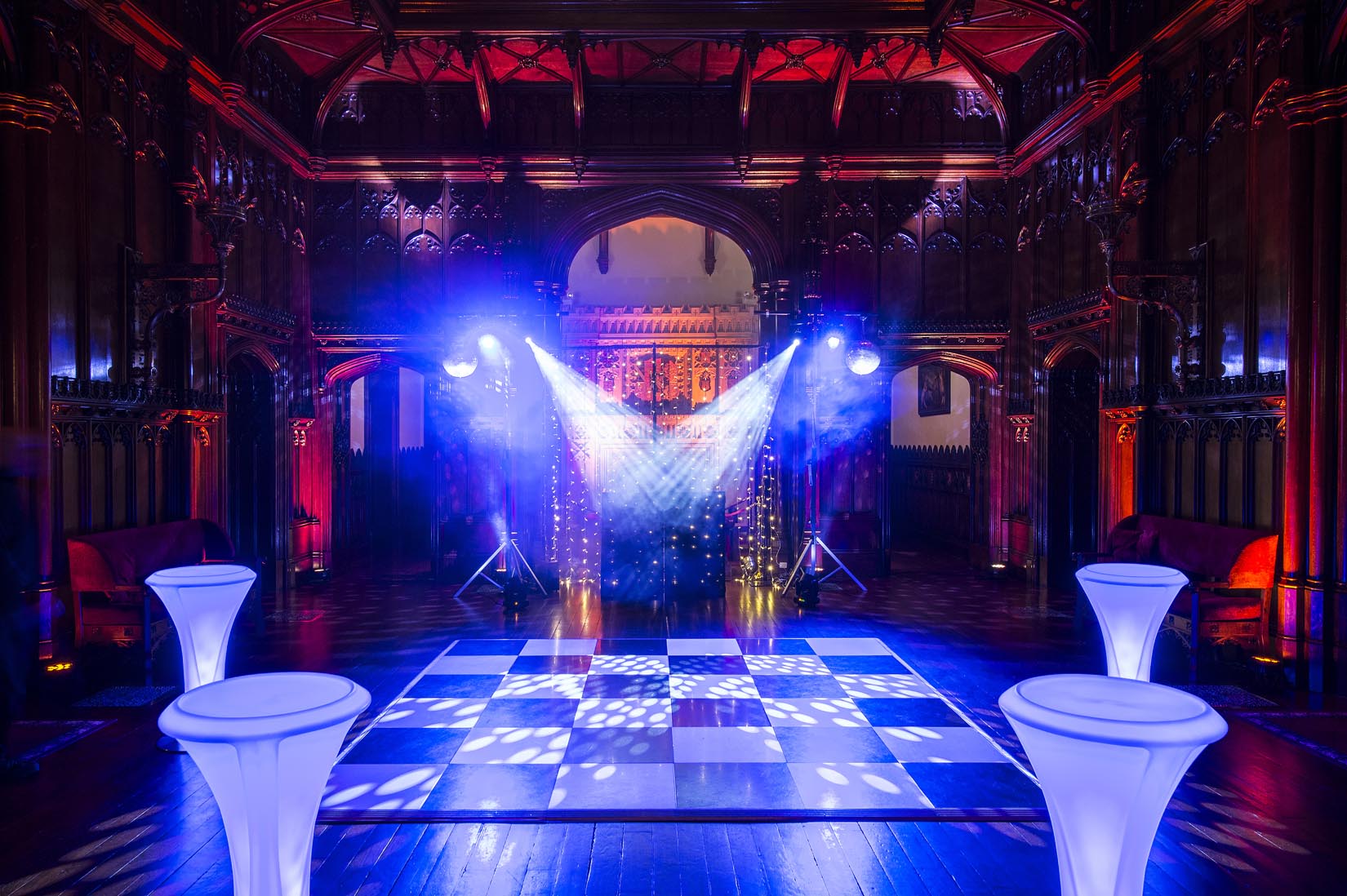 DJ set-up

Black-and-white Dancefloor

Colour-changing LED Poseur Tables

Fairy-light backdrop

Uplighting

(Photo credit: DJB Photography)
DJ set-up

White LED Dancefloor

Colour-changing LED Poseur Tables

Uplighting

Balcony Lighting

(Photo credit: DJB Photography)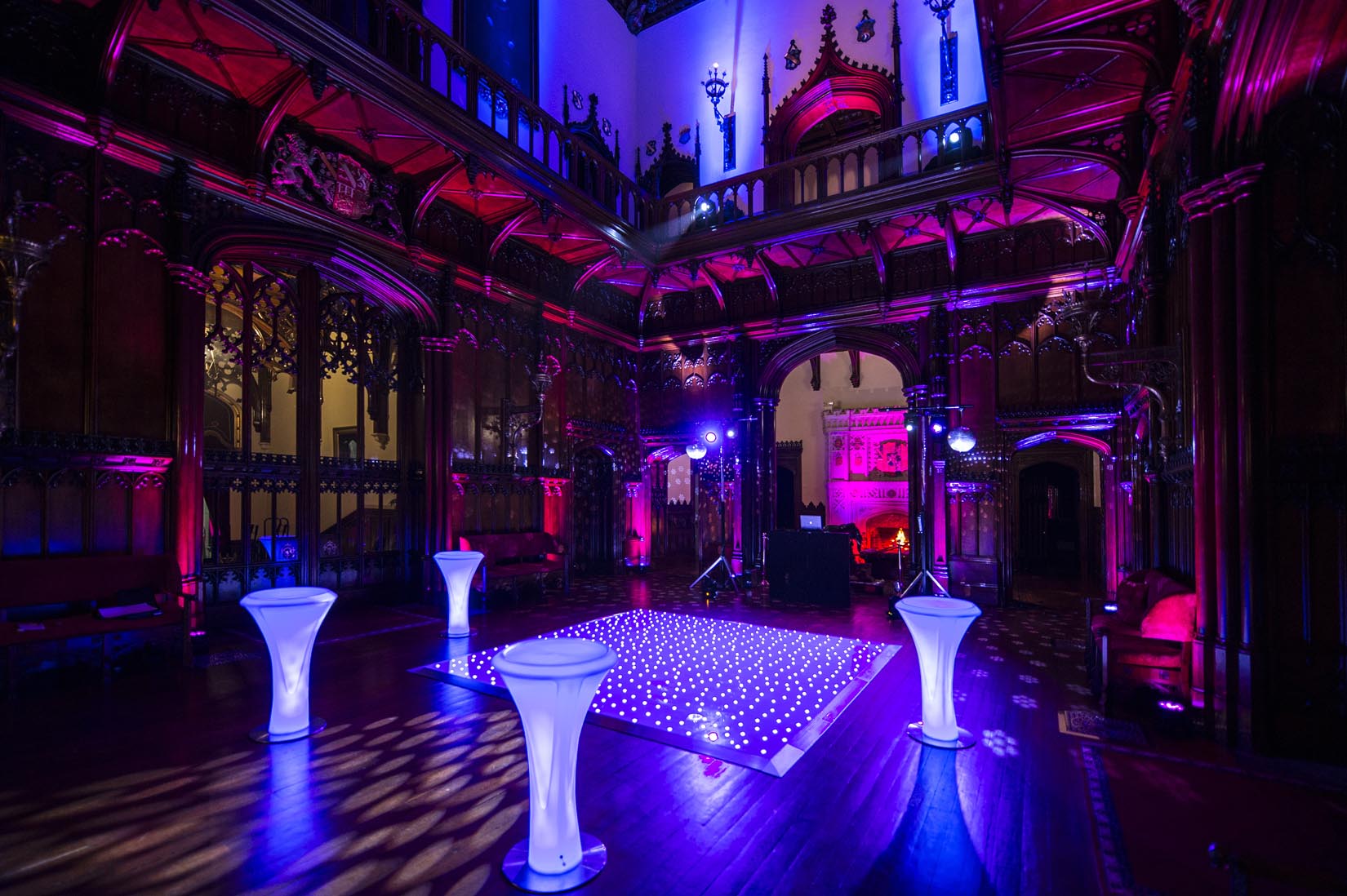 23rd February (11am – 3pm)
Don't miss this chance to see this fabulous venue for yourself on 23rd February, plus a host of amazing suppliers including us!
Trio Vivo will be playing live – you can request a song and even practise walking down the incredible staircase. We hope to see you there!