The Year of 2020 – our 20th Anniversary Year!
Lockdown 2020. Well we couldn't have chosen a more unusual year for our 20th anniversary, it certainly is like no other! Like most people, we have gone through lows and highs in extremes – both in home life and work life. There was a novelty at first that we had more time at home – family time and weekend time. For once we were able to enjoy the fabulous weather that we had and in the garden and during the 'daily exercise'.
Home schooling was a trial at times, but we did become experts in fractions and The Egyptians! We even had time to create family musical videos which were fun to do and great to look back on. Some were silly, some were beautiful. Have a look on YouTube:
You Are The Reason – Lockdown Video 2
Dance Monkey – Lockdown Video 3
Glasgow Love Theme – Lockdown Video 4
Events after Lockdown
Well, there haven't been many! We were involved with a lovely wedding at Rudding Park in August. This was a client who had originally planned to marry in March this year at Newby Hall, but had to cancel only 5 days before when Boris made his announcement.
They later re-planned for mid August, this time at Rudding Park. They were able to have nearly 30 guests in the end which was a perfect number in the Drawing Room at Rudding – a lovely long table for the wedding breakfast.
They had Trio Vivo for the drinks reception and throughout the meal, plus our grand piano and fabulous opera singers who sang between each course. The couple chose all the songs which were personal to them – not just opera, but pop and show songs too. It was basically concert performances on and off throughout dinner – amazing!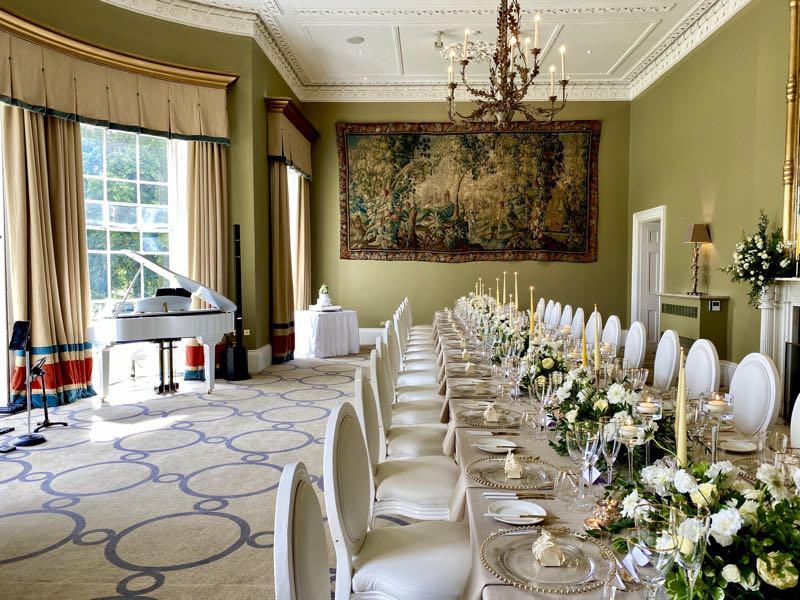 Rudding Park Drawing Room – showing our grand piano with Trio Vivo plus opera singers.
Rudding Park Clocktower Music
From the end of August onwards, Rudding Park brought back their Friday evening Live Music nights in the Clocktower Bar. This was a delight for us to play here again – plus it seemed it was also a delight for many guests to hear live music after many months lack of live events. It was a bit of a breath of fresh air! 
Rudding Park Wedding Open Days
Rudding Park also hosted a couple of exclusive Wedding Open Days after Lockdown. These were invitation only – just for select clients to view the venue set for a wedding. These were delightful – we set up the Radcliffe Room with our lighting, dancefloor and fairy lights and Trio Vivo played throughout the day. We had some lovely chats with future clients – it was refreshing to be able to have proper conversations and even play some song requests!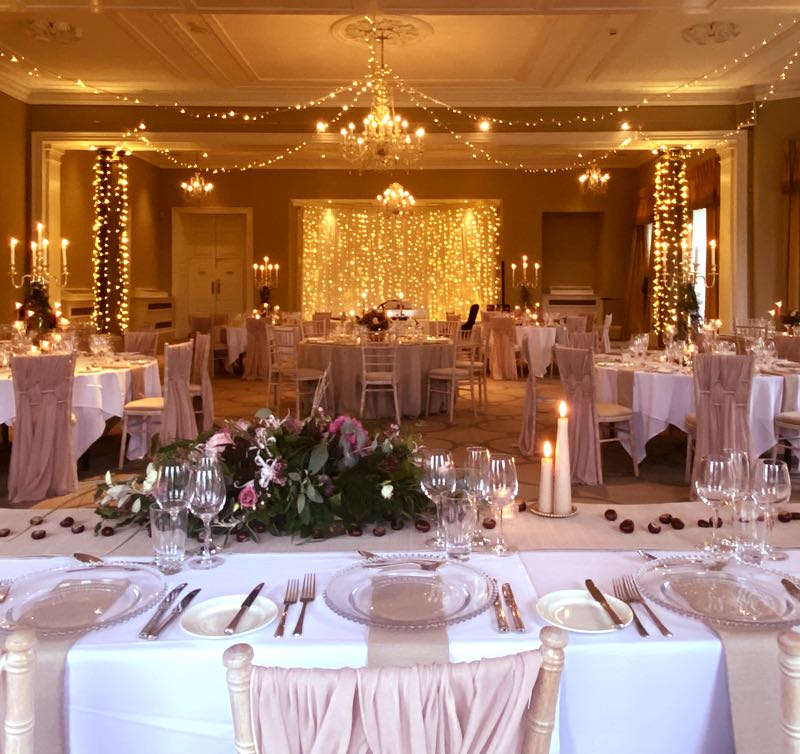 Rudding Park Radcliffe Room – showing our fairy light ceiling, fairy light starcloth, white dancefloor and grand piano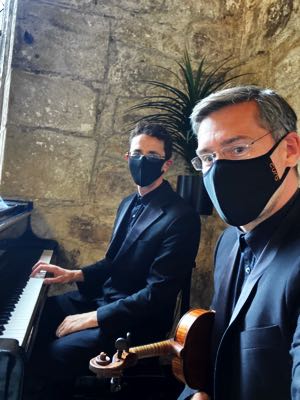 Smaller Weddings
The limit of 30 or 15 guests has made for some very intimate occasions and our music has been even more important than usual for providing the atmosphere.
In this picture – Duo Vivo (violin and piano) at The Priest's House in Barden Tower.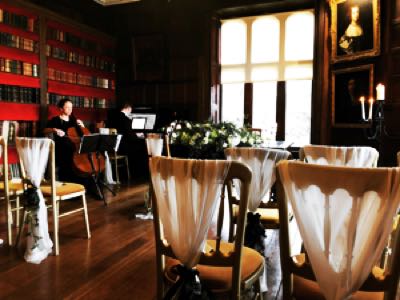 Cello & Piano Duo
The duo option of cello & piano has become even more popular as its mellow feel fits so well for smaller occasions.
Here is a picture of cello and piano duo at Ripley Castle.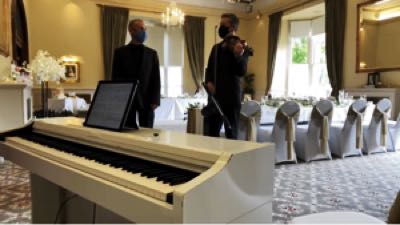 Violin & Piano Duo
A lovely couple who were getting married at Rudding Park in October had moved their wedding to 2021, but decided to still have a small 'do' this year too! So they had a smaller option of Duo Vivo. Next year they will have Trio Vivo plus Chris Hilton's Little Big Band for the evening party!
Here pictured in The Crown Hotel, Harrogate.
So what have we been up to in Lockdown No.2?
There was certainly an inital novelty of some time off earlier in the year – more sleep than we've ever had with no late nights working (particularly Chris). We had more time than ever to evaluate what we do and what we want to do in the future. We did briefly consider other ventures, but every time we did we would come back round in a full circle to our own Event Music Company. Over the last 5 years we have developed the business with the increasing of our equipment and the expansion of our unit into our own Showroom. We have been involved with fully managing some amazing corporate events as well as private events.
So, we now feel reinvigorated with some fantastic new projects and ideas ahead. These include filming and recording – something we never usually have time to do as we are always so busy with events!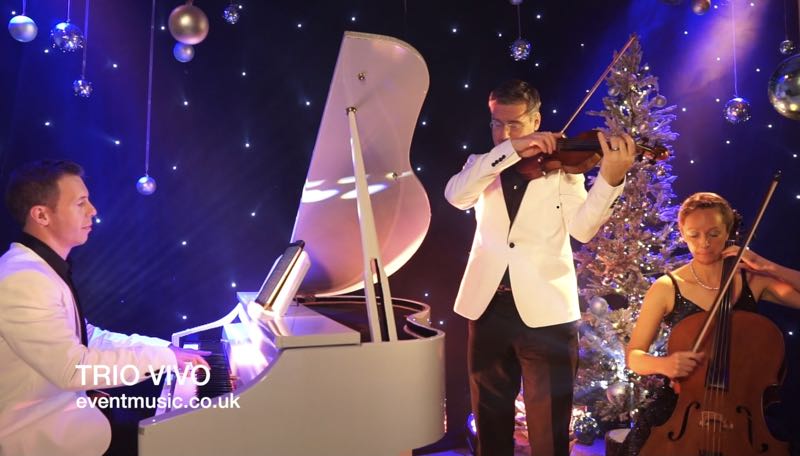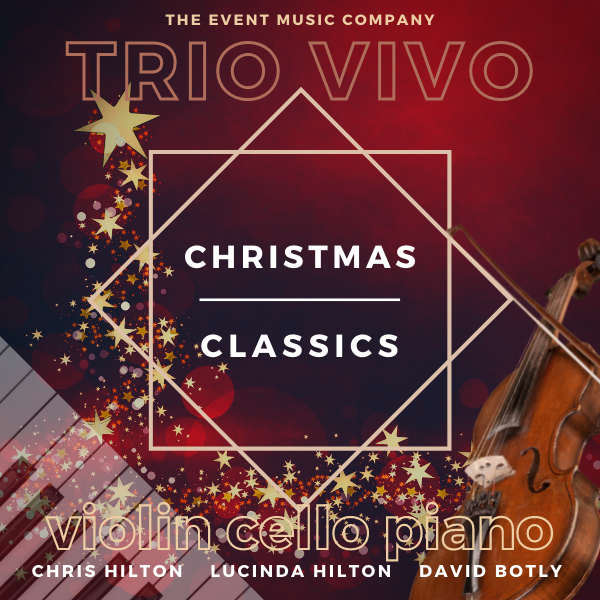 Trio Vivo Christmas CD
Now available to purchase on our website – this makes for a super gift. The perfect accompaniment to Christmas dinner or even just with a mince pie and mulled wine!
Watch a video of 'Chestnuts Roasting on an Open Fire':
Follow this link to listen to some tracks and buy our CD:
December 2020
There are meant to be some lovely weddings coming up in December and we are just keeping our fingers crossed that they will be able to go ahead. We also have Christmas and New Year events at Rudding Park which we are also hoping for.
If all goes well eventually with a new vaccine, we should have an extremely busy 2021!